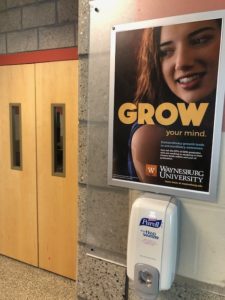 North Shore Advertising is a Northeast Ohio based company which specializes in assisting businesses looking to advertise on sanitizers.  Our formula is simple… We provide facilities where proper hand hygiene is important (i.e. Schools, Hospitals, Fitness Centers, etc.)  free year-round hand sanitizer and stations and in return, our sales team works with businesses who are interested in placing ads on these stations. (Ad size are 11 inches wide by 17 inches high, or 18 inches wide by 24 inches high.)  Imagine being able to advertise directly to your target audience and actually have potential customers drawn to your ad.
Today, North Shore Advertising is on the cutting edge of saving facilities money on hand hygiene products and creating a unique way for a business to advertise.  Our ad stations can be seen in many locations where hand hygiene is of importance.
North Shore Advertising takes the time to work directly with our customer base to make sure all clients know they are of the utmost importance.  Our staff has a combined 25 years of sales and marketing experience and has perfected their ability to connect advertisers with their target market.
The team at North Shore Advertising works specifically to accommodate our end-users by ensuring that our Ad-Supported Sanitizer Stations are always in plain view of potential customers.  We connect a wide range of clients with their target markets to stimulate sales and improve revenue.
If you are interested promoting your company on our Ad-Supported Sanitizer Stations, please contact us.